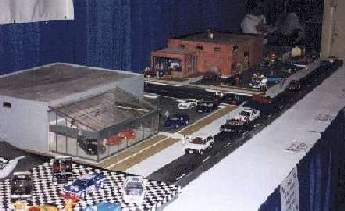 This Page Last Modified Dec 24th 1999
Fall Hobby Show - November 3rd, 4th, 5th 2000
Another hobby show has passed and everyone who attended had a great time. Every time someone went out for a walk he came back with packages under the arms. Of course everyone is curious as to what bargains were found
The picture above is part of the 50 feet of table length the club had for our display in 1996.
The Hobby Show held at the International Center on Airport Road, Toronto. This is a major show and we usually have a display area that is 40 feet long. We generally use 30 feet of this for displays and dioramas. The other 10 feet is for a building table. This table gives the paying customer an opportunity to view club members building a model. It also allows them an opportunity to ask questions about this hobby. It appears that the average modeler is more willing to accept advice from someone who is not trying to sell them something.
The reason the organizers want us at the show is for the paying customer to see our finished models and give them some inspiration to go and buy the same models from the dealers there. Our reason for being there is to raise awareness of our club and hobby, give very sound advice and to recruit new members who are interested in automotive modeling.
Always a fun event, a bit tiring since the days can be very long. A lot of interested people out there but also idiots. We do have a barrier but there are those parents who let their kids run free. We have to guard the models to make sure no kids or even adults pick up any models. Standard question is "Are they metal?" or "Are they for sale?" A lot of the models do attract attention. Someone always sees a model of a car they had and starts talking about how they wish they had the car now. Not to be modest but the members of the club are damn good builders and those beginner model builders are amazed at the paint jobs and detail on some of the models on display
See the picture section for a few photos from the 1996 Hobby show
Hope to see you there
Return to Group 25 home page http://www.interlog.com/~ask/g25/g25.htm
Return to Alex's home page http://www.interlog.com/~ask
Send comments, suggestions etc. to ask@interlog.com