Cyclone 375 Aeromotor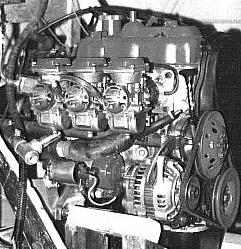 Why consider the Cyclone 375 over a two-stroke?


Improved reliability of a four-stroke

Higher torque and smoother power

Less engine vibration and related fatigue

Longer intervals between TBO

Reduced noise and pollution

Mechanical fuel pump w/electric backup

Easily available and low cost parts

Checklist of features:


50 Amp alternator

Lightweight starter w/ built-in solenoid

Cog-tooth belt reduction drive, made of aluminum castings

Built in Continental cones on re-drive for mounting to firewall

Thrust load is carried directly to firewall from re-drive, (no stress on block

Light weight-full block is only 78lbs

Re-drive is only 22lbs

Improved fuel economy-1.5 to 2 g/h

Authentic sound for light warbird replicas

Low frontal area


Why not modify the engine to get 100hp?
The basic engine is a Suzuki 4-stroke, 3-cylinder, of 993 cubic centimeters in displacement. The reduction drive is made of aluminum castings and is precision machined.
The engine is not altered from stock condition. The intake ports are slightly widened to match the triple carb setup.
The idea behind this approach is that the engine is stock and can be expected to have the same reliability and longevity as it enjoys in the car.
If we started changing valve timing and lift, crank and pistons, rods, etc.., you would wind up with a 100HP monster that would run at full throttle for a short time and then blow up. It would also run very rough at low speeds and have a torque curve like a two-stroke. If that is the kind of performance you're looking for, there are many good two-strokes(and over-engineered four-strokes) on the market that can provide it.


Dyno testing was accomplished with a SeeRay computerized water-brake. The tests were done with the engine in a basic configuration. We expect that with further development and fine tuning some more improvements will be achieved.


---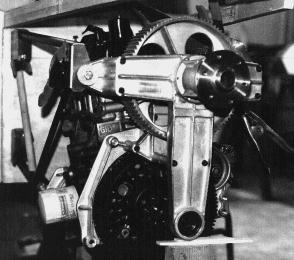 Here is a front view of the re-drive and mount on my P-40

The carburetors are tried and true constant velocity type, which are excellent for fuel economy and air/fuel mixture under different conditions.
Click here to see comparison charts between the Rotax 582, 618, and the Cyclone 375, for Horsepower and Torque.

Reliability :
These engines have been running in hundreds of thousands of cars for the last 12 years with great results.

I may do an information booklet on how to make one yourself as time allows, I'd like to wait untill mine is flying first, to iron out the bugs.

Your best bet is Raven ReDrives Inc. they have packages ready to go and lots of airtime.
Raven ReDrives Inc website


Paul Kane is a licensed auto mechanic, a trained computer technician, was the P-40 Squadron Leader for the Replica Fighters Association for several years, and has been building airplanes for the last ten years

E-mail: lkane@interlog.com