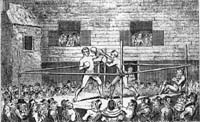 "For boxing historians...Boxiana is the publishing event of the year"
The Ring, Jan. 98

Welcome to the official Boxiana I website. Boxiana is a complete and unrevised edition of the Smeeton Boxiana (1812) by Pierce Egan originally published in 1813.
This edition of Boxiana, published by Nicol Island Publishing, includes a new index, a glossary and an introduction.
Pierce Egan was born in the early 1770's and died in 1847. Given his father's occupation, that of a roadmender, it seems unlikely that Egan received any formal education, but at age 12 he was apprenticed to a printer, and spent the rest of his life pursuing literary endeavours.
The original Boxiana was published in serial parts between 1811 and 1813 (one of the first books to be issued in this fashion) and came out in book form in 1813. It was an immediate success for a number of reasons. At this time boxing was one of the most important manifestations of popular culture in England. Although illegal, matches were attended by the Prince Regent and other members of the upper classes, and were also closely followed by the lower classes. Egan was well known to and well liked by nearly everyone in boxing circles. Most important though, were his abilities as a journalist (he knew shorthand, a rare skill at the time) and his evidently well earned reputation for integrity in a sport where it was an unusual commodity.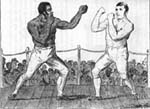 This book is part of a five volume series treating with one of the most important aspects of social life in England over a period of fifteen years. It is written with tremendous verve by a man who cared for and was trusted by all the Fancy. That this book has been virtually unavailable to boxing fans, sports journalists and social historians for such a long time seems extremely unfortunate. I only hope that others will enjoy this book as much as I have.
Scott Noble

For information on forthcoming volumes of Boxiana, see purchasing info.