. . . you have been taken to my personal web site. it's old skool but you can read it if you like . . .
work. i am with moriyama & teshima architects where i am an associate. my degree from ryerson university is in architectural science - architecture. at m&t i have worked on many projects including the canadian embassy in tokyo, japan, the bata shoe museum and i took the alan earp residence at brock university from concept to reality. then it won an award. i spent six years working on aga khan projects. the first was the the delegation of the ismaili imamat building on sussex drive in ottawa, our nation's capital which won a governor general's medal in architecture. this was followed by the aga khan museum, wynford park that is being constructed in toronto - like the delegation building designed in collaboration with maki and associates from tokyo, japan. for the last half of 2011 i spent day (and often night) working on the moriyama & teshima new office before we moved there in december. then we had an epic party at the empty 32 davenport road building to close out that era.





i investigate new technologies and introduce them into our office. i started our web site which has been in operation since april 1995. we were the first canadian architects on the internet. the site was featured in taschen's 1000 favourite web sites from all around the world. the architects and the planners sites also launch from our other domain mt.co.ca. the m&t office has moved from 32 davenport road after being there since 1966 to 117 george street. i stated our own @m&t newsletter, that chronicled the people, events and projects that occur at m&t. it had gone dormant but is coming back due to popular demand. like everyone else, we are now on facebook and twitter.




architecture and design. i appreciate the work of c.r. mackintosh, le corbusier and alvar aalto. the documentary my architect about the life and work of louis kahn provided facinating insights. an interesting designer is jhane barnes. she is into fractal geometry, mathematics, fashion, furniture, and creates it all on mac computers. i heard her speak and this is what jhane said. for design overload, i recommend tokyo. where else can you walk past buildings designed by le corbusier, yoshio taniguchi, kunio mayekawa and tadao ando within minutes of each other.





publications and lectures. cad systems magazine published an article i wrote about macintosh computers and cad at moriyama & teshima architects. i spoke to the 4th. year professional practice students at the faculty of architecture, landscape and design as a visiting lecturer and at the construct canada trade show. the globe and mail printed a picture of me, much larger than i expected, in their report on business technology quarterly supplement along with a few comments i made about mobile computing some time ago now.
computers. apple macintosh is my computer of choice. i use the mac to produce architectural models and drawings, to write and publish, to create multi-media, "content" for this little web site and to explore new technology. at m&t i have had a series of imacs. first there was a bondi blue original model, then a translucent graphite special edition, the luxo lamp like model and a rectangular imac. the imac lineage ended when i started using a macbook pro. at home i use a white macbook wirelessly connected to an airport base station which is no longer such a big deal. for some reason i was a a latecomer to the ipod. probably because it was going to take too much time to load all my tunes. then i dislocated and fractured my shoulder giving me lot's of free time. i first aquired a 30gb photo ipod, then the original ipod shuffle to wear when skating, and after a time an original black nano which i gave away. i eventually replaced it with a square black nano. now i have an iphone which is a small computer that can make phone calls and a macbook air may be the best computer ever.






racing. much of my time away from work has been spent at kart racing tracks (winning races and championships as a driver over a span of 15 years) and at car racing tracks. my racing number is 26. i competed in the 1995 okra grand nationals, my first kart race for a couple years, and when it was over i remembered why i liked to race and why it was time to stop. in 1997 i became the first asn canada fia national chief steward for karting. i have been across the country from british columbia, to alberta, to manitoba, quebec and ontario officiating at races. then the world came here for the north american karting championships. our event was selected by the fia as the best organized karting world championship event of 1999! we are very proud of that. in 2001 canada was one of only 5 countries, and the first one under the new format, to host a round of the karting world championship and i was a steward for the event. i write and edit the asn canadian national karting regulations. i was interviewed by inside karting magazine about my racing history.




here in ontario i worked with the sunoco ron fellows karting championship where we put karters into racing cars to help them move up the ladder. the list of those moving up that we have chosen is very impressive. 2006 was the first season of star racer on discovery channel canada. they came and filmed three of our kart races in hdtv. i was on the show for about 10 seconds. then the publicity kicked in. tv ads, cabs that look like formula cars, billboards and bus shelters. currently i am the steward for the eastern canadian karting championship.



i primarily follow formula one. i followed cart and then champcar before it was merged (really absorbed) by the irl. i do watch with interest the progress of danica patrick who i first met at charlotte racing karts and later in an ambulance at mosport when her kart flipped. about nascar - it must be classed as entertainment, not racing, but mark martin is amazing. in 2000 i finally made it back to montreal with amy for the canadian grand prix and that was a fabulous weekend. in 2007 i returned to montreal and had the best access ever. f1 paddock, pit lane, some laps around the track in the course car and a tour of race contol. thanks paul.





i was a guest of walker motorsports at the molson indy vancouver when scott goodyear won the pole. for once i was one of those hangers-on standing on the starting grid before the race. drivers i have watched and admired include gilles villeneuve, ronnie peterson and keke rosberg who i met at mosport during the 1998 north american karting championships where his son nico won his race. jacques villeneuve was the first canadian world champion. talented karters from our sunoco ron fellows series include robert wickens, james hinchcliffe , daniel morad and kyle marcelli. i marvel at the talent of ron fellows. he can drive anything fast. greg moore became known for his driving talent but will be remembered for being a great friend to many. the last racing vehicle i drove was george gilbert's f1200 race car at shannonville.




cars. i used to be more of a road car enthusiast before racing took over but the spirit was rekindled when i saw, and sat in, a new mini cooper at the auto show in 2001 a year before they released the car here. i had a two of the original minis (one was stolen never to be seen again) way back when and i must say bmw captured its spirit in the new one. i once had a white porsche 914 that had rust issues and my first car ever was a little yellow fiat 850 spyder that also rusted and then burned. my first new car was a red toyota tercel, followed by a blue civic crx (once i got this i sold the porsche) followed by a white civic special edition and a black golf. i am enjoying an all silver mini cooper now switched for a siver cooper s with a black roof - the world is my go-kart track! best car ever (until i get a 911 that can fit a snowboard inside.).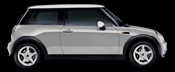 music. i have a larger collection of recorded music than i realize. cd's, tapes, digital and i have kept all my vinyl! i have been loading up my ipods with the best and my favourites. not always the same thing. some of my favorite sounds are produced by pretenders, 54-40, sarah mclachlan but the the beatles still set the standard. the final crash vegas disc, aurora was very special and the city-tv new music program interviewed colin and michelle at the m&t designed bata shoe museum. the wild strawberries filmed their lucky day video at bata too. thanks to roberta for sending over a copy. alanis morissette's jagged little pill stands the test of time and now it is over 10 years later and an acoustic version has been released. you might call it a guilty pleasure but i do know most of the songs by roxette the swedish pop duo. and of course there are great talents like sarah harmer saving the planet. or avril lavigne from the metropolis of napanee, ontario. i've got the napanee home hardware no. 2 soccer shirt from the snl appearance.





old or classic listen to list. between about 1970 and 1975 elton john put out a series of albums with almost all the lyrics by bernie taupin. they were serious about their craft in those days and it shows. later with fame and fortune becoming their focus the quality waned. the best of the bunch i think is tumbleweed connection. the gems from this era are not really the hits. songs like sixty years on, come down in time, amoreena, talking old soldiers, tiny dancer, madman across the water, mona lisa and mad hatters.
sometimes when exploring new music, if you trace back a current artist's influences you can find some amazing classics. in the movie control, about ian curtis and joy division, david bowie's alladin sane is featured. and of course joy division itself has influenced so many bands. i even found a warsaw cd in tower records in tokyo. in the early to mid-1960's bob dylan changed the rules. check the freewheelin' bob dylan, bringing it all back home, highway 61 revisited and blonde on blonde. music that influenced or insired u2 include the first album by the clash, patti smith horses, the beatles sgt. pepper, the ramones, roxy music, david bowie low (working with eno) marquee moon by television and astral weeks by van morrison. listen to them and be educated.






current or recent listen to list. anything dallas green does on his own - city and colour (dallas and green) or the neverending white lights song the grace. silversun pickups - canvas. the cliks - snakehouse, produced by moe berg. yeah yeah yeahs - show your bones. marie antoinette soundtrack featuring the cure, siouxsie and the banshees, bow wow wow, new order, gang of four. a good fit for the film. sophia coppola does it again. (see also virgin suicides and lost in translation soundtracks). but the best "new" album is neil young live at massey hall 1971. a solo acoustic performance. raw neil with just guitar or piano. timeless. try out sarah slean, emm gryner or melissa bel. we can add new discoveries like catherine maclellan, alana levandoski, imaginary cities, hannah georgas, arkells, the weakerthans, the civil wars and melissa mcclelland to the list. put on your plaid shirt and listen to trent severn. intelligent song writing and so wonderfully canadian.






concerts. there may be enough on this topic to justify it's own web site! i've seen artists ranging from elton john to james brown to peter gabriel to madonna to depeche mode to siouxsie and the banshees to blondie. i made a list. i could never decide which one was the best, but now i have. paul mccartney in 2002. some of the best songs ever written performed by the person who wrote them. and he was a beatle. other legends. the rolling stones. they have been around 40 years and they can still put on a fantastic show. the pursuit of happiness reunion show at lee's palace in december 2005 just increased my appreciation for their work. for a band that never really split up but hasn't played much for years, tpoh still rocks! seeing roger waters in 2007 doing dark side of the moon start to finish and throwing in classics like wish you were here and comfortably young under a classic pink floyd flying pig was a trip. emm gryner at the glenn gould theatre and daniel lanois at massey hall were both very memorable and both were recorded by the cbc so i can re-live them again. peter hook toured and only played joy division songs, and did it very well. and recently four bands came to toronto that are on the pretty in pink soundtrack - omd, psychedelic furs, echo & the bunnymen and new order. all we need now is a smiths reunion
crash vegas put on a memorable concert at lee's palace and the band signed their set list for me after the show. this started something. i've since met sue medley a couple of times after her shows, and she signed her set lists for me. i was in the studio audience to see amanda marshall for a live muchmusic intimate + interactive concert just before she hit big, and then saw her after that in venues of ever increasing size. i first saw chantal kreviazuk opening for amanda. since then i've seen chantal play solo at the trinity cathedral, convocation hall and massey hall. at convocation hall the set list went missing at the start of the show. then they found it. after the show i acquired it to add to my small collection. chantal has been photographed with me and was spotted in my local kitchen table store doing some shopping. i went to the lilith fairs where the women hang in the men's washroom, along with the men of course.






even more concerts. sadoceanspacebear evolved from it's patrick, the coolest indie band, with with my friend michelle out front. the first cd monsters of the deep is a nice piece of work. i was one of the select few to see alanis morissette during her 1998 club tour. julianna hatfield puts on hard edged electric shows now, in sharp contrast to the first time i saw her play an acoustic set in sam the record man store on yonge street. julianna says it's okay to just stand there and enjoy the music at a concert - that is what she does. me too usually.
i attended my first authentic celtic music show when the battlefield band from scotland toured here. since then i've seen natalie macmaster play some tunes and one song, and mary jane lamond who sings in gaelic. mary jane told me my name is really tormod, but somewhere in history it got changed to norman. the corrs from ireland performed in tower records and they signed their cd for me afterwards. all together, when they are right in front of you, those sisters are beautifully intimidating. a find was the cottars. two brother and sister duos from cape breton. very young and incredibly talented. i met them after a show in hamilton where they told me about their numerous shows at the m&t designed canadian embassy in tokyo, japan. unfortunately, they have split up.
some musical encounters. i first met tara maclean from p.e.i. at an hmv in-store and later with her family shopping in loblaws one saturday morning. she told me about a trio she joined called called shaye with kim stockwood and damhnait doyle. and speaking of kim stockwood , her christmas parties with guests like tara maclean, mary jane lamond and lot's of elvis christmas songs were the most fun ever. pass the screech nog! the enduring pretenders played an outstanding show at massey hall and the next day i joined chrissie hynde at the gap for a peta gathering/protest on bloor street. i loved seeing renee of tpoh singing, dancing and smashing that tambourine against her in a pretenders t-shirt at the lee's palace 2005 reunion concert.

radio. it used to be cfny 102.1 most of the time but my taste in music is more diverse than that. i was a dedicated listener to the humble and fred show on 102.1 before they left for am but then sanity prevailed and they went to 99.9 before they got shown the door for no good reason that i could see. for a trip try psychedelic psunday on q107. now the best news of all. i have found the legend original david marsden on 94.9 the rock saturday and sunday nights. check it out. the marsbar. what radio is supposed to be like. in the original 102.1 days there was a whole station like this. and they had pete n' geets too. now it's mostly cbcr2. radio 2 morning, radio 2 drive in the evening and the vinyl cafe with stuart mclean on saturday mornings.
comedy. i had to add this section since i have seen jerry seinfeld live on stage four times. he was as funny as expected, then he adds a bit more and it is hilarious. he even took questions from the audience and did a hello newman to top off one show. my live comedy experience is very limited but i have seen bill cosby (a very long time ago) and ellen degeneres way before the talk show. i finally made it to a comedy club and started at the top, the second city.
sports. in my youth i was a rink rat, playing on two hockey teams and working at the oakville ice centre before it burned down. one summer i taught at the ross garner hockey school, including power skating. this was before my racing days began. i skated at maple leaf gardens when i participated in the bobby orr celebrity skate. and yes i did attend the orr-walton sports camp, and bobby was there on the ice teaching us. number 4 was my hockey hero when i was a kid. still is i guess. the leafs moved to the hangar and i have only seen three games there. it's not the gardens, where back in the day my dad had a share of season's tickets. mlg is now a grocery store with a rink for ryerson above. at least they saved it. i have now quit playing hockey for the third and final time. i still had some skills but this time after crashing into the end boards, dislocating and fracturing my shoulder, that's it. yes, it really hurt (to quit) but we all must move on.
i in-line skate as much as possible. my number one place to blade is the the leslie street spit. good path, great scenery, no cars and as of yet no crashes into anything that hurt me. once the snow flies i'm at the harbourfront rink ice skating around in circles. when in ottawa look for me on the canal, it's an 8 km skate before you have to turn around!





more fun stuff. am i crazy. some think so, but i do have some friends, okay it is sylvia, that has always taken me out to do crazy, but interesting things. snowboarding was one. another was skydiving. i jumped out of an airplane at 4000 ft, the parachute opened and i lived to tell about it. i have yet to go back up, so that tells you something. still not sure how to follow that one up. probably shouldn't. the latest was surfing at tofino. in the summer of 2006 my friend sarah asked me to consider it, and before i let told her yes or no we were in a class at surf sister.
many winters ago now sylvia took me snowboarding the first time at blue and i had the bruises from the spectacular flips to prove it. i did not think it was for me. then i went back the following winter for one more try and before i knew it i had my own board, and all the cool gear. now riding has become an activity i look forward to each week during our seemingly shorter winters. i have been able to ride at some private clubs georgian peaks and craigleith and finally osler which is the best ride in collingwood. every winter i say i'm thinking of going to western canada to board but it hasn't happened yet. one year i tried to be a semi-regular at tremblant. loved it. i am the originator of m&t snow day where i convince as many people as possible to take a day off work and join me in collingwood.
alternative fun. i went to stainless studios (now closed) where they stick pieces of metal into people a few times but it was not me who they pierced. check my friends for silver hardware. now that everyone who is cool has been pierced or tattooed, what's next? for special occasions i will still go into a club and may even enjoy myself, but don't count on it. a walk on queen street west or a hike in the woods sounds more appealing these days. no matter what you hear, i am not a spy there sherlock. you should have a monster, from monster factory, i have a few. designed by friends adam, bliss and rhya. here are kevin and dave, before kevin left for tokyo where he used to live!





literature. when i reorganized my condo i reclaimed the solarium which had primarily housed shelves and files. added a small couch/chaise from eq3. now that i have a better place to retreat to, i have been reading many more books. schultz and peanuts by david michaels showed how the creator of charlie brown drew from his own life to create his comics. michael schumacher the edge of greatness by james allen, searching for bobby orr by stephen brunt, citzen of the world, the life of pierre trudeau volume 1 by john english (which leaves you wanting to get into volume 2), winning is not enough by jackie stewart and a freewheelin' time by suze rotolo chronicling her life with bob dylan in the early 1960's in new york's greenwich village. i had to find a usd copy of before the gold rush by nicholas jennings to find out about the roots of the canadian music scene in canada and especially yorkville in toronto. the stack of books now finished includes john lennon - the life by philip norman and all three malcolm gladwell books read in reverse order to their publishing dates. after finishing scott pilgrim vol 1 it's on to vol 2, 3, 4 etc. it's supposed to be aimed at younger people but the diary of a wimpy kid series is very funny. in the recently read pile is: soul mining - daniel lanois, the optimism bias - tali sharot, neil and me - scott young. and the steve jobs book of course.
paul cantin provided some good background on the rise of alanis morissette in his book you outta know. i read fewer magazines than i used to. for local happenings it's the grid (formerly eye weekly) or now. my favouite columnists are leah mclaren in the saturday globe despite the fact many people seem to hate (misunderstand?) her and donna lypchuk in eye who had the nerve to leave right after i put a link to her column up many years ago. autosport and now f1 magazine supply racing info. macworld for computer info.
if nothing else, read the original winnie the pooh and curious george - how life should be. if you think the original a.a. milne authored winnie the pooh books and the works of dr. seuss are just for children to read you would be mistaken! i continue to work through anam cara - spiritual wisdom from the celtic world by john o'donohue which i discovered in dublin.
i'm not that political, but i do believe in the canada put forward by tommy douglas, voted the greatest canadian in a cbc poll, and implemented by pierre trudeau. trudeau is the only politician who has ever captured my imagination. apart from the charter of rights, his mutli-cultural and pluralist policies there is one memorable thing he did that still sticks in my mind. the famous walk in the snow when he decided to leave politics. i went to a play about it and the walk is mentioned in a song by the vanity project. below are two pet quotes:





"i walked until midnight in the storm, then i went home and took a sauna for an hour and a half. it was all clear. i listened to my heart and saw if there were any signs of my destiny in the sky, and there were none - there were just snowflakes."
1984-02-29 recounting the "walk in the snow" at a news conference announcing his resignation.
"we have much more building to do. well we will dream some more. our hopes are high. our faith in the people is great. our courage is strong and our dreams for this beautiful country, will never die."
1984-06-16 liberal party convention - resignation speech.
tv. first, let me say i watch the box more than i should but there are no real "must watch" shows anymore. i have little to look forward to now that the x-files or felicity left. some great time wasters are muchmusic, muchmoremusic, or a selection of the other city-tv originals. or even ed the sock who i have been photographed with four times! the tightly written fawlty towers shows up on the comedy network sporadically with the master of silly walks john cleese but i have the dvd's now. it seems that almost every situation in life has occured on either the flintstones, the simpsons or seinfeld. check out ren & stimpy. happy, happy, joy, joy! no , stop! don't be an eediot!





current shows i will watch are mostly on showcase, bravo or the speed channel. on the networks, there were actually some shows of interest - being erica, fringe, bsg. i was introduced to dead like me on dvd - often multiple episodes on dvd each day - but i liked it. because of michelle, i got hooked on the hills. the aftershow on mtv canada is just about as good as the episodes. shallow but addictive. the city too. now that i have hbo, i can watch californication and curb your enthusiasm where the seinfeld reunion did make up for the seinfeld finale. can't stop watching pawn stars, canadian pickers, american pickers and storage wars. this too will pass.
shows i watched that are gone or did not last long. joan of arcadia and american dreams about the 1960's in america. buffy the vampire slayer kicked it, i do miss the battles with faith. i'll just be content with season 3 now that the episodes are on dvd. you might not have heard of any of these ones. freaks and geeks, grosse pointe, get real, undeclared and cupid. nothing can replace the wonder years and my so called life but someone could try. julianna hatfield was a guest star on the mscl christmas show and she played the part of a homeless angel very well. i now have the dvd of this episode as my tape was wearing out from it's yearly showing.




i was on a couple of sets where it really is hurry up and wait. and wait. when they were filming new episodes of straight up i hung out at the fictional aj's restaurant. then i got to got to the launch party for the new season at the mockingbird (now gone). i was in studio at discovery to see a live filming of @dicovery.ca. then there is star racer. we were surronded by cameras and insight/discovery people at the kart races as they captured images of our kart racers. saw the finale of cover me cannda at the cbc. they did not win but my favourite was living in red from manitoba.
"...to deceive, inveigle and obfuscate. To obscure the truth not only from others, but from ourselves." dana scully (played by gillian anderson who has an official web site where once a year they auction off x-files and gillian stuff, where you can pay more for a signed picture of gillian than you think you should, and justify it since the money goes to a good cause.) i have collected all the x-files dvd's when they have dropped in price. it pains me to say that after waiting for it and going on the first day, the x-files movie i want to believe did not revive the magic. seemed a little better when i watched it on dvd.





movies. first, some classics. blade runner director's cut, a hard days night, butch cassidy and the sundance kid , easy rider , taxi driver, kalifornia. there are more but i can't remember them now. for a good 'computer' movie, see war games. or a canadian film like the classic hoser road movie goin' down the road or exotica or the sweet hereafter. the last two from atom egoyan. sarah polley is in many of atom's movies and was good in go. at quentin's jackie brown, atom himself was spotted in the audience when we went. toy story was too much fun as was monsters inc. backbeat told us of lennon, sutcliffe and astrid. natalie portman stole the spotlight in beautiful girls and her first film leon is exceptional. heathers is wickedly bent.
i rented crash. it was filmed on roads i drive almost every day which made it seem very real, and even more disturbing. a fav movie is still shakespeare in love. almost famous takes you back in time. there are always many more movies i would like to see than i do. then an amazing one comes along. the hours. the attention to detail is appreciated and i do think it has a positive message. before sunrise and before sunset are right at the top of my list. sophia coppola's lost in translation is brilliant! if you like bill murray look back 20 years and view the razor's edge, his first dramatic role. you will be pleasantly suprised. walk the line is not just about the man in black johnny cash, but johnny and june carter. highly recommended to see and if you don't appreciate the music before you will afterwards. in marie antionette the attention to detail is remarkable. control about joy division and ian curtis is so well done it is gripping. travel across our beautiful country in one week.





travel. i went to england, france, the netherlands, italy and germany when i was much younger and i think that's one of the reasons i got interested in architecture. i have been to all the canadian provinces, except saskatchewan and newfoundland, but i have flown over them. i have been to more little towns in ontario than i could list. i have lost count of how many times i have been to british columbia. ah tofino. i spent many days in and around dublin, ireland. another pint of guinness please! i still need to make the pilgrimage to liverpool for a beatles magical mystery tour.
after spending time in tokyo, japan both working and exploring, i must say that there is something of interest around every corner. completely fascinating. a late 2006 exploration - winnipeg, manitoba was just the first trip. last time i went to neil young's teenage home, just as bob dylan did. it was awesome. there were a couple of trips to snowboard at mont tremblant. back to ireland. then to nyc where jennifer showed me montauk (at the eastern tip of long island) and how special it is (expansive beaches featured in the movie eternal sunshine of the spotless mind). then we went to the john lennon imagine memorial at strawberry fields in central park and stopped by the entrance of the dakota. i have always wanted to go there, but once i arrived i wanted to leave. in reading the a freewheelin' time book i came to realize that we had lunch in greenwich village on west 4th. street, right across the street from 161 west 4th where bob dylan and suze rotolo lived during dylan's formative years. i have not been there but here is some nyc trivia. monk's restaurant in seinfeld is really called tom's restaurant and was the inpiration for the song tom's diner by suzanne vega, the song used by the creator of the mp3 when developing the format.





where i am now. toronto, ontario, canada. right downtown. i like to explore the city on foot. the most common route has been queen street west, but there is also king street west, yonge street, or up to bloor street, maybe down to college street or to the distillery district or the beaches. all areas in between. the same route is different every time. along the way there can be encounters.






i was reluctanly pressured to get on myspace, then i was abandoned there as everyone went over to facebook. i have now moved over but as of yet have not put much effort into it. maybe i will, maybe i won't. and now there is twitter...
if you have somehow made it this far, we conclude this journey with the inukshuk. do you know about the inukshuk (ee-nook-sook)? there are a number of stories that explain them. i first came to know about them when we placed one at the canadian embassy in tokyo as part of the fourth floor canada garden. they were built by native people in northern regions of canada. stone figures that resemble humans. they were landmarks for navigation and would indicate to a future passerby that they were not alone. each one is unique. they represent perfect balance - each part depends on the other to exist. today they are said to remind us of our dependence on each other and the value of strong relationships. the first one below is at the embassy in tokyo and the other one i built at the end of a road i travel.


. . . if you think you know me now, you don't . . .





<!right>