JEAN AUGUSTINE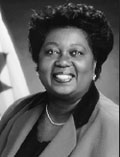 The Honourable Dr. Jean Augustine, Minister for the Status of Women and Multiculturalism, received the FriendshipAward.
---
Jean was honoured for her staunch support as Patron of South African Women for Women and the continued guidance and encouragement she has provided to us since the organization's establishment in 1997.
Jean Augustine was born in Grenada. Before entering politics she was an Elementary School Principal with the Toronto District Catholic School Board.
She has served on numerous Boards including the Board of Governors of York University, the Board of Trustees for the Hospital for Sick Children, the Board of Directors of the Donwood Institute, the Board of Harbourfront Corporation and the Chair of the Metro Toronto Housing Authority. She was also National President of the Congress of Black Women of Canada.


In 1993, Dr. Augustine became the first African Canadian woman elected to the Parliament of Canada. From 1994-1996 she was the Parliamentary Secretary to the Prime Minister of Canada.

Her responsibilities in Parliament are numerous. Dr. Augustine is Vice-Chair of the House of Commons Standing Committee on Foreign Affairs and International Trade. She is the Founding Chair of the Canadian Association of Parliamentarians on Population & Development, Chair of the National Sugar Caucus, Chair of the Microcredit Summit Council Canadian Parliamentarians, Chair of the Canada- Slovenia Parliamentary Group and Chair of the Canada-Africa Parliamentary Group.

Dr. Augustine also served three terms as Chair of the National Liberal Women's Caucus.

She has recently been appointed Secretary of State. Multiculturalism, (Status of Women). Jean Augustine holds a B.A., a M. Ed and an Honourary Doctor of Laws from the University of Toronto.

Through fundraising efforts Dr. Augustine supports The Jean Augustine Scholarship Fund, which supports single mothers to undertake post-secondary study at George Brown College.
She is the recipient of the YWCA Woman of Distinction Award, the Kaye Livingstone Award, the Ontario Volunteer Award, the Pride Newspaper Achievement Award, the Rubena Willis Special Recognition Award and the Toronto Lions' Club Onyx Award.

We are proud to honour her with the South African Women for Women's Friendship Award 2002.