John Waters was born on 22 April 1946 in Baltimore, Maryland, USA.
A true hometown hero, he sets all his movies in that gloriously decrepit, inexplicably charming city.
Early Influences
Home Movies
Dreamland
Pink Flamingos...
...and Beyond
---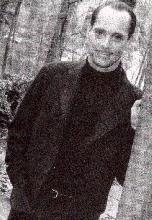 John Waters was brought up to be a good upper-middle-class Catholic. But something didn't take.
The first sign was John's childhood fascination with mayhem. He would go out of his way to see house fires and the aftermath of car wrecks.
The teenaged John rebelled against the strictures of his middle class environment, particularly his Catholic school. He cut classes to see trashy movies, shoplifted, took dope, and enjoyed playing the juvenile delinquent.
This phase of Waters' life would inform the characters and aesthetic choices in his movies in years to come.
For example, John preferred the company of "bad" girls with glamorous teased hair, heavy makeup, tight clothes, and lots of attitude. These girls influenced characters and costumes in many of his movies, notably Female Trouble and Cry-Baby.
John also made friends with young men from outside the mainstream. One was Harris Glenn Milstead, a heavyset youth who liked to dress in drag.
Waters christened Glenn "Divine" and helped him free his inner diva, to unforgettable effect. Divine would go on to be Waters' greatest star.
---
Early Influences | Home Movies | Dreamland | Pink Flamingos... | ...and Beyond | Top
---
A gift of an 8mm home movie camera set John on his filmmaking career. His first movie, the silent short Hag in a Black Leather Jacket, depicted a bizarre wedding.
Several more experimental films followed, with dubbed music and dialogue accompanying silent montages that satirized religion and middle-class values.
Waters was on his way to becoming one of America's most distinctive filmmakers. Then, as now, he wrote, produced, directed, shot, and edited all his movies. He also selected the early rock and rhythm-and-blues music that make his soundtracks so distinctive.
---
Early Influences | Home Movies | Dreamland | Pink Flamingos... | ...and Beyond | Top
---
As his local fame increased and his budgets became (slightly) bigger, Waters moved to feature-length underground comedies whose unconventional content belied their straightforward narrative structures.
Waters assembled the Dreamlanders, his talented cast and crew. Together they created a unique, fully realized movie world, and they did it on miniscule budgets—a testament to their talent and creativity.
For more information about the Dreamlanders, visit the Stars and Crew page.
---
Early Influences | Home Movies | Dreamland | Pink Flamingos... | ...and Beyond | Top
---
In 1972, Waters reached the peak of the filth aesthetic with Pink Flamingos. This trash classic (arguably the source of today's popular grossout comedies) sparked a devoted fan following and outraged Waters' moral enemies. It ensured Waters an honoured place in the underground filmmaking hall of fame forever.
Waters was smart; he never tried to duplicate the excesses of Pink Flamingos. He continued to make movies about extreme subjects, but he shifted his concentration to more complex plotlines and themes.
Over time, Waters has edged closer to the mainstream, with more straightforward comedies and Hollywood casts.
---
Early Influences | Home Movies | Dreamland | Pink Flamingos... | ...and Beyond | Top
---
Over the years, Waters has battled censors and courts. He's endured the untimely deaths of some of his greatest stars, including Divine, Cookie Mueller, and Edith Massey. He's also become an accomplished writer and artist, and seen Hairspray adapted into a huge Broadway success.
He remains a little island of originality in a sea of bland, homogenized product. He'll never be an entirely mainstream filmmaker. His fame will always rest squarely on the infamy of Pink Flamingos.

And yet, with the Broadway success of Hairspray, John Waters and his work are becoming known to a much wider audience. He's even been immortalized in a guest role on The Simpsons. And that's good—because the world needs all the John Waters it can get.
Obviously, this short article cannot begin to tell the whole story. Waters' autobiography, the hugely entertaining Shock Value, is a must-read for anyone who wants to know what goes on in the mind of this American original.
---
Early Influences | Home Movies | Dreamland | Pink Flamingos... | ...and Beyond | Top
---