Much has been written about scripts, actors, and production values, but to date, no one has undertaken a study of food in John Waters' movies.
Food motifs play a major part in Waters' satires of religion, consumption, and social competition. The Two Jealous Perverts think it's time someone wrote a scholarly treatise on the subject.
Are we up for the challenge? You bet we aren't!
But now we've reminded you of all those luscious food-filled scenes, and we realize that you're probably hungry.
So, as a public service, the Two Jealous Perverts invite you to enjoy a hearty repast at one of Baltimore's finest eating establishments: that mecca of every gourmand on the east coast—the one and only Pete's Hotel.
---
Welcome to Pete's!
You can't just sit there. You have to order something.
Your server: Edith

---
Breakfast
Special: 43 eggs, sunny-side up
So fresh you could hardly believe it!
A giant danish
Mom's cereal
Fruit salad
How about some toast?
---
Appetizers
Special: Little mascara brushes
Eat one. They're quite tasty.
Crackers
Chips
Carrot
Pretzels
Melvin's Pickles
---
Light Meals
Meatball Sandwich
Perfect for eating right out in class!
Hot Dog
Specially fondled by our very own hippy.
Spaghetti with Lots of Cheese
A tiny portion. Perfect if you rarely eat any form of noodle.
Sandwiches
Your choice! Roast beef, double egg salad on white toast, or mmm...baloney!
---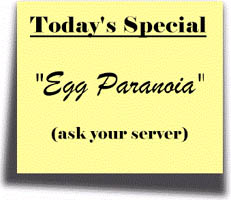 ---
Main Courses
Black Magic Steak
Freshly stolen and warmed up in our own little oven.
Grilled the way you want it on our 1970s type barbecue.
Pizza
Your choice! alla Carlotta or alla Francine.
Pit Beef
Full of grace—not full of grease!
Turkey neck surprise
Is there no shame?
Sausage
Served with mayonnaise. Don't forget the red—hot—pepper!
Meat and Potatoes
Just like your Aunt Ida used to make.
Macaroni and Cheese
Perfect for your growing teenager.
Shrimp
Share it with a friend!
Two Veal Cutlets
Served on a lovely tin plate.
Two Chicken Breasts
Not available. We're having spaghetti.
Fried Rat Surprise
Beautifully garnished. Available by special order.
---
Vegetarian Selections
Obscene fruits and vegetables
Eat them all in the name of health.
Potatoes au gratin
Mm-mmm!
---
Chef's Special
Loaves and fishes
All-you-can-eat fresh white bread and succulent tinned tuna, miraculously prepared by our chef.
---
Desserts
Chocolate cream pie
An entire cake
A cookie
Honey and popcorn
Taffy
A penny jawbreaker
---
Beverages
Extremely large glass of ice water
Sip of soda
Pepsi-Cola (available only in a 2-litre bottle)
Sherry
Beer
A Coke—you'll have a Coke
---
Our Policy
We're sorry, but we do not allow gum in this restaurant.
And remember: if you don't like what we serve, you can always Eat Your Make-Up.
---
This is a nice club.