Paul Walty
Paul is a practicing visual artist living in Toronto. He has been active professionally for almost 25 years.
Educator
Paul has over twenty years of experience conducting workshops for teachers and young people in the schools across Ontario and in Québec.
For ten years, he taught at a post secondary level first at the Ontario College of Art and Design in the Foundation Program, and later at the Collège des Grands Lacs where he was a teacher of new media and the first Multimedia Program Coordinator.
The Ontario Arts Council has awarded him 29 grants from its Artist in Education Program.
Paul is an Inner City Angel Artist and has been on the Angel roster for more than 20 years.
The art projects he presents in the schools are grounded in his studio work and are fine-tuned to reflect the needs of teachers and young people of all ages.
Education
He is a graduate of the University of Toronto, the Ontario College of Art and Design, and has a Web Master Diploma from Toronto Imageworks.

Work Experience
Since 1980, Paul has free-lanced as an illustrator, a graphic designer and more recently as a website designer.
This experience enriches his presentations in the classroom and can give a workshop a more commercial bent - whether it is an introduction to posters or the where's, why's and how's of other sorts of promotional media, the design and layout of newspapers or newsletters executed entirely by hand or with a computer, the conception and construction of websites, the exploration of accessibitility and simplicity in interface design, or an overview of hand-lettering or digital typography.
Artwork
Drawing is his prime means of expression. For the most part his images are figurative and highly graphic, as you will see when you consult the artwork presented along the right of this page.
Media
What does he draw on? Paul works on paper, cardboard, mylar, wood, and canvas. He packs a sketchbook wherever he goes.
What are his favourite colours? While his choice in colour runs to the brightest - he genrally sticks to the primaries and secondaries - he currently uses black and white almost exclusively.
What does he use to draw? He works with pencils (he much prefers the softer leads ranging from HB to 6B), markers, graphite sticks, acrylic paint and the computer.
Many examples of his personel work are monumental in scale often measuring dozens of metres square. He has a piece that runs 30 metres horizontally and is just over 2 metres high. Obviously his images do not always fit comfortably over the sofa! Or on the computer screen.

Artwork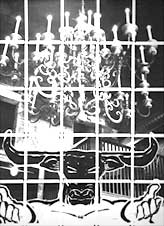 This digitally collaged drawing and photo is one of a series that re-examines the Greek myth of the Minotaur.
PAUL WALTY © 2007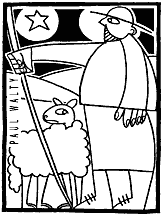 An image for a poster promoting Christmas plays put on by Proculi Ludique Societas (PLS), a theatrical group speciallizing in plays from the middle ages.
PAUL WALTY © 2004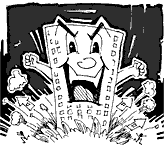 This drawing started out as a pencil sketch and was finalilzed with black, permanent markers and touched up in Photoshop.
It concerns changes in city neighbourhoods and the impact they have on the lives of those living there.
PAUL WALTY © 2004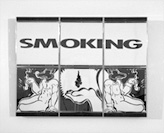 This work is one in a series digitized pen-and-ink drawings, all presented in jewel boxes.
PAUL WALTY © 1997