Art in the classroom


Workshops with the visual artist
Paul Walty

Are you looking for art activities that will inspire your class? Do you want an art project that fits into the curriculum? What about a workshop that will clear the air a bit, or simply reward a class for its hardwork and a job-well-done?

Paul can help you out. He offers a variety of art workshops which can be tailored to fit your needs.

Go Figure provides you with a list of workshops, brief descriptions of each workshop and indicates all the materials needed. Should you have questions drop him a line. He will be more than willling to help out.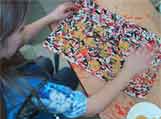 If you do not like paint on your fingers then Paint Storming (Paint 1) is not you. For those who like to get into the thick of it, this workshop will enable all participants to create marvellous, richly coloured patterns.
A great introduction to the power of abstract imagery.
PHOTO: PAUL WALTY © 2005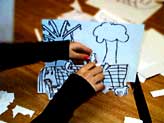 The Paper Sculpture Workshop: a First Nation Longhouse takes shape in skillful hands. The main ingrediant: bristol board or, in this case, cardstock. Next step: a little colour.
PHOTO: PAUL WALTY © 2003

Again in 2013-14!
Paul was awarded another Artist in Education Grant from the Ontario Arts Council. This money subsidizes the artist fees. Keep in mind that visits must last a minimum of 5 days.
Does this web page look like the picture below?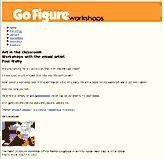 If it does and everything, pictures and text, is stuck to the left side of your screen then you are working with an old browser.
Using it just means things will not be as well organised on the screen.
If you want to see how good this page and all the others on this site can be, you will have to upgrade to a more recent browser like Opera, Firefox or a newer version of the one you use currently. Not only will the site look better it will be better organized, and you will be able to locate things faster.