Art in the classroom with Paul Walty


Workshop Information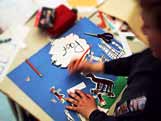 The Stop-Animation Workshop makes splendid use of ordinary construction paper.
Markers are used to accentuate and finalize the pencilling that defines characters, props and sets. Here a last minute addition before filming begins.
Paul Walty © 2004
How much do these workshops cost?
Fees
As of July 1st, 2013 the fees are as follows:
1-day workshop = $430
2-day workshop = $860
5-day workshop = $2,150
Please note: HST will be added to the fees.
Expenses
There may be additional costs over and above the fees. They can include:
a) travel - Paul's trips to-and-from your school
b) lodging - when Paul can't go home at day's end.
c) art supplies
Travel
These are applicable to all workshops. Of course, they vary according to the distance and means of transport.
Lodging
Billeting or motel / hotel / bed-and-breakfast accommodations may have to be factored into the budget. It all depends on the length of his stay.
In the case of workshops assisted by the Ontario Arts Council's Artists in Education Programme, additional financing is available to underwrite travel expenses. As funds are limited, it is wise to assist Paul in making his application as early as possible.
Art Supplies
Paul makes every effort to use art materials already available in the school. In the event the supply room is "fresh out", most things, he proposes for his workshops, can be purchased at office supply stores.
What if you would like to use actual art materials? Talk it over with Paul. He has many years of experience and can advise you on what your options are, given what you would like to accomplish.